13 Jul

Ideas to Steal from Our Favorite Custom Kitchens
Considering building a custom home, or remodeling your existing home? Ending up with a kitchen that meets your family's needs, feels current, and is well-suited to your home is no small task. In our role as custom home builders, we have seen so many concepts move through the design phase to fruition. Here are 3 ideas we recommend stealing:
Waterfall Edge Countertops
Waterfall edges can be created with a variety of solid slabs like marble, granite, concrete, or even wood. Lending a current feel to the design, a waterfall edge makes the material you have so carefully chosen visible from more angles and lends a beautiful cohesiveness to the entire space.
Creative Shelving
You can create a more open and contemporary feel in your kitchen by reducing the number of upper cabinets. But creating a sense of space doesn't have to mean less storage. Adding a shelf or two will ensure that everything has its own place.
White with Warm Woods
White is a timeless color choice for any kitchen, traditional or modern. Make the space look larger and balance the whiteness with warm woods. Wood elements can include a butcher-block section in your island, wood flooring, or shelves (see above).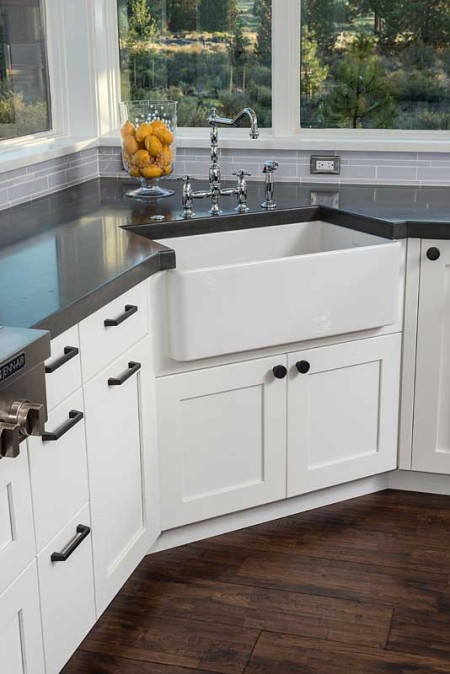 Timberline Construction of Bend builds custom homes throughout Bend and Central Oregon. If you want to learn more about building or custom home or remodeling your kitchen, drop us a line! We'd be happy to show you our work in person, connect you with a designer, and discuss the planning and pricing process.